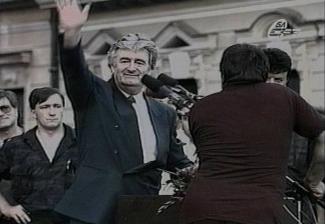 "In every environment, Radovan would show a different face" – says one of the persons interviewed in "Life and Deeds of Radovan Karadzic". This film presents some of the more prominent of Karadzic`s many faces: that of a psychiatrist, poet, politician, commander-in-chief, person charged with genocide and fugitive from international justice. There have been many twists and turns in his rise from a Montenegrin shepherd to a hero of a Serb myth. In the end, he soared to greatest heights only to plummet to the lowest depths. There is drama in this, there are tragedy and comedy. People who know him well or who thought they knew him well speak about him. Those are the people who cannot be disinterested, the people who have been deeply affected by the war for the Serbian state in Bosnia Karadzic led.

The film examines his rhetoric, arguments he used to manipulate the masses, his political mentors and the aftermath of his actions, described in the indictment issued against him by the ICTY. The strong and widespread myth about him is now mostly confined to the realm of epic folk songs. Although it is now history, the myth must be looked at, because it has yet to see its conclusion, in judicial, moral and political terms.

Documentary material and testimony of he knew and those who knew him well are important to all those who want to look into the life and works of Radovan Karadzic, regardless of their political beliefs. They are just as important to all those who have an interest in Bosnia then and now, the war in the former Yugoslavia and current political developments in the Western Balkans.